MG University Degree Application 2023 [Started] - UGCAP Registration
|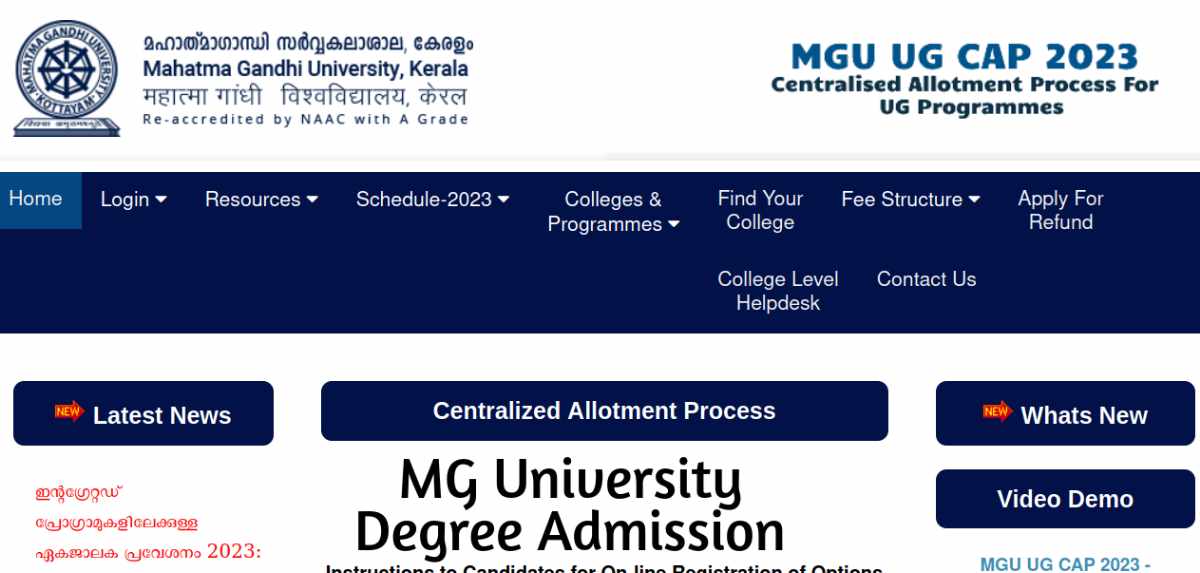 MG University Degree Admission 2023-24 UGCAP Online Registration for Undergraduate Programme Admission (Degree Admission) in 2023-24 began on May 25th, 2023. The MG University Degree admission allotment process will take place via the MG University UG CAP 2023 site, which can be found at www.cap.mgu.ac.in. It is a centralised allocation process - CAP - single-window system.
Candidates interested in applying for admission to MG University Degree programmes must first register online at the MG UGCAP 2023 site. The CAP system's online registration gateway is www.cap.mgu.ac.in. By using CAP online registration, prospects just need to submit a single application for various universities. Candidates who have completed their 12th grade or have a recognised equivalent qualification can apply for MG University Degree Admission 2023 via MGUGCAP 2023 Ekajalakam.
MGU-UGCAP Admission 2023
The MGU Degree CAP Registration 2023 will begin on May 25th, 2023. The prospectus for MG University degree admission 2023 will be accessible on the MGU UG admission webpage. The MG University Degree UGCAP Trial Allotment 2023 result will be available on www.cap.mgu.ac.in in June 2023. Candidates seeking admission under the community quota, sports quota, or management quota should apply online at www.cap.mgu.ac.in.
How to Apply for MG University Admission?
1. Candidates must go to www.cap.mgu.ac.in and click on the link "UG cAP - 2023" to register their personal and academic information online.
2. Follow the online instructions and enter your personal information in the appropriate fields.
3. Please keep in mind that only one application can be made using a single mobile number, thus the applicant must be exceedingly cautious while inputting information online.
4) Make a "Password"(The password will be used for any future online transactions). The candidate's password should not be exposed to those who may misuse it. This may result in tampering with the alternatives, for which the University will not be held liable.
5) Complete the application form correctly, including personal information, academic eligibility, and options.
6. Pay the application cost by clicking the "PAY NOW" button, which takes you to the Online Payment Gateway. To make an online payment, you can use a debit/credit card or Internet Banking.
7. Once you've paid the cost, you'll be taken back to the application page.
8. Upload digital photos of documents proving caste/community/bonus points claimed, etc.
9) Check the appropriate documents and confirm the details entered on-line before submitting the application.
10. After ensuring that the information supplied is valid, the applicants must click the Final Submission Button.
11. Take a printout of the confirmation page, which the candidate must keep for future reference.
The allocation is exclusively based on the information provided by the candidate in the online application. Any inconsistency between the online information provided by the candidate and the original documents supplied at the time of admission will result in the cancellation of the allotment.
Important Dates for MG University Admission 2023
| | |
| --- | --- |
| Starting Date of Online Registration | 25.05.2023 |
| Last date for online application | 12.06.2023 |
| Provisional Rank List, Trial Allotment | 15.06.2023 |
| Data modification/ Rearrangement/ addition/ deletion of options | 15.06.2023 to 16.06.2023 |
| First allotment | 20.06.2023 |
| Online Payment of fee due to University | 20/06/2023 to 22/06/2023 |
| Online admission in Colleges and payment of fees due to the college | 20/06/2023 to 22/06/2023 |
MG University Degree Admission Highlights
ALSO CHECK : MG UNIVERSITY DEGREE ADMISSION 2023
| | |
| --- | --- |
| Admission Type | MGU UGCAP 2023 Admission |
| State | Kerala |
| Category | Admission |
| University | MG University |
| Online registration Starting Date | 25.5.2023 |
| Online Registration Closing Date | 12.6.2023 |
| Official Website | www.cap.mgu.ac.in |
MG University BA Degree Courses List
Programmes under Faculty of Language and literature
BA Arabic, BA English, BA Hindi, BA Malayalam, BA Sanskrit, BA Tamil
Programmes under Faculty of Social Sciences
BA Animation and Graphic Design, BA Multimedia, BAAnimation and Visual Effects Model III, BA Audiography and Digital Editing Model III, BA Economics, BA History, BA Islamic History, BA Philosophy, BA Sociology, BA Polytical science, BA Mass Communication and Journalism Model II, BA Bachelor of Fashion Technology (BFT), BA Bachelor of Social Work (BSW), BA Visual Arts (Interior Design) Model III, BA Visual Communication Model III, BVoc Fashion Technology, B Voc Animation and Graphic Design, BVoc Broadcasting and Journalism, BVoc Fashion Design and Management, BVoc Fashion Technology and Merchandising.
MG University BSc Degree Courses List
Programmes under Faculty of Behavioural Science
B.Sc Psychology
Programmes under Faculty of Science
BSc Apparel and Fashion Design Model III, BSc Food Technology and Quality Assurance Model III, BSc Bioinformatics, BSc Biotechnology Model III, BSC Botany, BSc Botany and Biotechnology Model III (Double Core), BSc Chemistry, BSc Clinical Nutrition and Dietetic, BSc Family & Community Science, BSc Food Science and Quality Control, BSc Geology, BSc Mathematics, BSc Microbiology, BSc Physics, BSc Recreation,Leisure and Sports Studies, BSc Statistics, B.Sc Zoology, BSc Zoology and Industrial Microbiology, BSc Chemistry - Petrochemicals, BSc Electronic Equipment Maintenance, BSc Geology and Water Management, BSc Biological Techniques and Specimen Preparation, BSc Culinary Arts & Catering Technology, BVoc Food Processing Technology, BVoc Sustainable Agriculture, BVoc Renewable Energy, BVoc Industrial Instrumentation and Automation, BVoc Renewable Energy Technology and Management, BVoc Agricultural Technology, BVoc Agro-Food Processing, BVoc Food Technology & Analysis.
Programmes under Faculty of Technology and Applied Sciences
BSc Computer Science Model III, BSc Computer Applications (Triple Main) Model III, Bachelor of Computer Applications (BCA), BSc Cyber Forensic, BSc Electronics and Computer Maintenance Model III, BSc Electronics, BSc Information Technology, Bvoc Sound Engineering, BVoc Software Development and System Administration, BVoc DTP and Printing Technology, BVoc Printing Technology.
Programmes under Faculty of Physical Education
Bachelor of Physical Education and Sports (BPES) (Four year Programme)
MG University BCom Degree Courses List
Programmes under Faculty of Commerce - BCom Courses
BCom Computer Applications, BCom Cooperation, BCom Finance and Taxation, BCom Marketing, Bcom Travel and Tourism, Bcom Office Management and Secretarial Practice, B Voc Applied Accounting and Taxation, BVoc Business Accounting and Taxation, B Voc Banking and Financial Services.
Programmes under Faculty of Management Sciences
Bachelor of Business Administration (BBA), Bachelor of Business Management (BBM), Bachelor of Hotel Management (BHM), Bachelor of Tourism and Travel Manangement (BTTM), B.Voc Logistics Management, B.Voc Marketing Management and IT, B.Voc Retail Management and IT, BVoc Tourism & Hospitality, BVoc Tourism & Hospitality Management.
OFFICIAL WEBSITE : CLICK HERE
ONLINE APPLICATION LINK : CLICK HERE
CAP SCHEDULE : CLICK HERE