Kerala University UG Trial Allotment 2019
|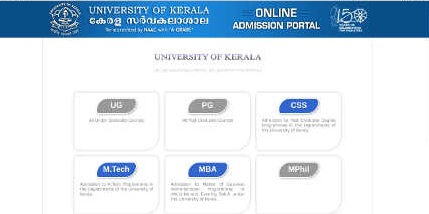 Kerala University UG Trial Allotment 2019, Kerala degree trial allotment, Kerala University Degree Trial Allotment 2019, Degree Trial Allotment Result 2019, B.A/B.Sc/B.Com Degree Allotment Result, KU Degree Admission 2019, Kerala University UG Trail Allotment Result, First/Second Allotment Result, Degree Allotment Result 2019, Kerala University Degree (UG) Allotment 2019
Kerala University Degree Trial Allotment 2019 published on 30-5-2019. Kerala University admission registration for ug degree programmes in B.A, B.Sc, B.Com can be made through the univerity admission web site www.admissions.keralauniversity.ac.in.
Kerala university Degree Trial Allotment Result 2019
Kerala university Degree CAP Trial Allotment will be Published (30/5/2019) at www.admissions.keralauniversity.ac.in.
Kerala University degree admission 2019 will be processed through the CAP Allotment process. The Kerala University Admission Allotment process includes Trial Allotment , First Allotment , Second Allotment. All the allotment results are publishing on university admission web site as per the schedule. Kerala University First Allotment Result will be published after the trial allotment. Second Allotment result will be published on after the first allotment to fills the remaining vanacy of seats. The candidates who got an allotment in the first/second allotment should have to make fee payment and report to the college for admission.
Kerala University UG Trial Allotment will be available on university web site www.admissions.keralauniversity.ac.in. The candidates can check their degree trial allotment result by using Registration details. The degree trial allotment 2019 is not the actual allotment so the candidates who had included in the trial allotment result could not claim for admission. The trial allotment helps the students to get an idea about the chances of getting allotment in the actual allotments.
Kerala University Allotment Dates Mentoined Below :
| | |
| --- | --- |
| Online registration starts | 10.05.2019 |
| Trial Allotment | 30.05.2019 |
| Closure of Registration | 03.06.2019 03.00PM |
| First Allotment | 04.06.2019 |
| Second Allotment | 10.06.2019 |
| Third Allotment | 14.06.2019 |
| College Joining | 17.06.2019 to 20.06.2019 (21.06.2019 & 22.06.2019 buffer dates) |
| Commencement of classes | 24.06.2019 |
If any candidate want to make modification in their options or make any corrections, they can do it before the specified last date.
After the Trial Allotment result published, Kerala University will publish First Allotment Result. The candidates who are included in the Kerala University UG First Allotment Result 2019 could claim their Allotted seats to the college.
Kerala university Degree Allotment Results
Steps to check Allotment result :
Go the site www.admissions.keralauniversity.ac.in
Click "UG" button
Login using Application number and Password and click "Login" button
Check the trial allotment status
For more details visit: www.admissions.keralauniversity.ac.in
Titles:
KU degree trial allotment
Kerala ug trial allotment
Kerala University degree trial allotment 2019
Kerala University Allotment Result UG Degree
Kerala University degree Trial Allotment Result 2019
Kerala University degree Allotment 2019
Kerala University UG Trial Allotment Result
Kerala University Allotment Result 2019
Kerala University CAP Allotment Result 2019