MG University MBA Admission 2021 - mgu.ac.in
|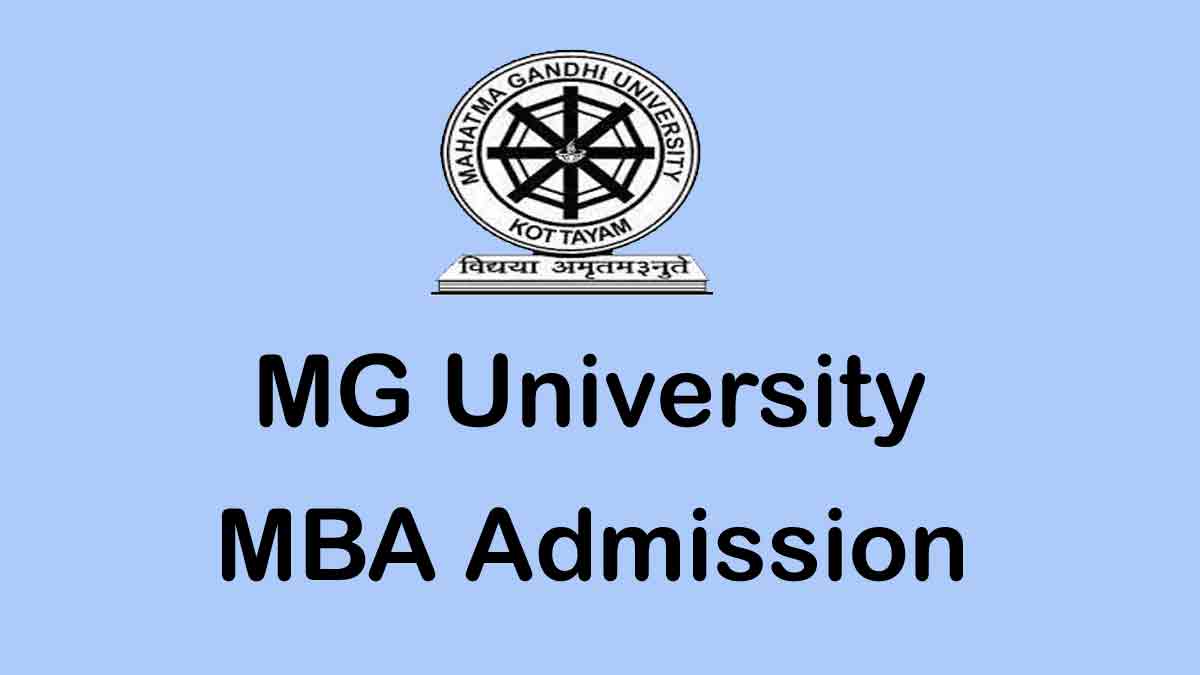 The MG University has been released the MBA Application form on the Official Website of MG University. The Candidates who are elligble to appear on MGU CAT 2021 can fill the Application form before June 20th. The Final Confirmation of submission of application form will be on June 30. The Candidates can apply through the Official Website www.mgu.ac.in
MGU CAT Admission 2021
The Registration form of MG MBA will be available on the Official Website. The Candidates can apply through Online Mode. The Canidates should fill the required credentials. The Candidates should upload the Educational Qualification Document, Passport Size Photo, Signiature etc.
The Application fee can be remitted only by online payment system. Credit/Debit/ATM/Cash cards and Internet Banking facilities can be used for making payment.
How to Register for MG University MBA?
The Candidates who want to apply MGU CAT should follow the following steps.
Step 1 : Visit the Official Website (mgu.ac.in)
Step 2 : Click on button"Admission 2021".
Step 3 : Click on the Link "MBA"
Step 4 : Click New Registration.
Step 4 : Enter the required credentials.
Step 5 : Click Register
After the Registration the Candidates will be given a Application Number.
| | |
| --- | --- |
| Category | Fee Amount |
| SC/ST | Rs. 550 |
| Others | Rs. 1100 |
Documents Required
The dimensions of all the certificates is:Minimum Width: 500 px and Minimum height: 500px. The Maximum size is restricted to 200kb. Allowed types are gif,jpg,png and jpeg.
You should ensure that the uploaded certificate is very clear and readable. Unreadable certificates will lead to the rejection of your application.
Photocopies of the documents (Self Attested) to be submitted with the Printout of the application form at the time of interview/Group discussion
1. Score card of CAT/CMAT/KMAT
2. Photograph
3. Non Creamy layer certificate (Only for candidates who are claiming reservation under OBC community )
4. Certificate of sports and games/NCC/NSS (Only for candidates having Achivements in sports and games/NCC/NSS )
5. Mark list of Qualifying exam
6. Income Certificate (Only for candidates who are claiming reservation under economically backward among forward community )
7. Relevant documents for Experience or other qualification (Only for candidates having any other qualification or information/Experience )
8. Medical certificate of disability issued by a Government Medical board (Only for candidates with disability )
9. Caste Certificate (Only for candiadtes belonging to SC/ST/SEBC/OBC categories )
10. BPL Certificate (Only for candidates who are claiming reservation under economically backward among forward community )
Admission Criteria
Admission to MBA Degree programme of the School is based on the score obtained in CMAT/CAT/KMAT, Group Discussion, and Personal Interview in the ratio 80:10:10. Based on the performance on the Entrance Test, Group Discussion and Interview, the Rank list for MBA admission will be prepared.
Seats Available for All India Open/Merit Quota: 60 (available for candidates from Keralaand outside the State
Minimum Qualification:
A pass in any Bachelor's Degree Examination of Mahatma Gandhi University or an equivalent degree of any other universities duly recognized by Mahatma Gandhi University with not less than 50% marks in the aggregate for all parts of examination OR a Masters Degree in any subject. Only a pass in the qualifying exam is required for SC/ST candidates. Those who are awaiting final semester results of qualifying exam can also apply provided that they should produce certificates and mark list of qualifying exam before the commencement of their first semester MBA examination.Relaxation of marks and Reservation of seats are based on University/ Government Rules.
Candidates should have valid CMAT/CAT/ KMAT (Kerala Management Aptitude Test)score.
MG University CAT PG Admission 2021 - mgu.ac.in
Those who are qualified from universities other than Mahatma Gandhi University should produce Eligibility/Recognition certificate from this University and Migration Certificate/NOC from parent Universityat the time of interview or group discussion
MGU MBA Admission 2021 Prospectus
MG University MBA Registration 2021