MG University Degree Admission Online Application 2019 Started - MG UGCAP 2019
|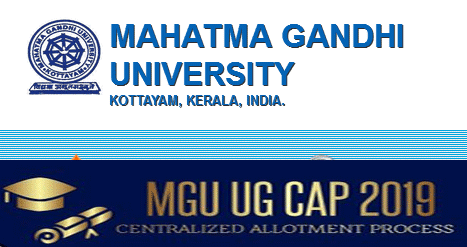 MG University Degree Admission Online Application UGCAP Registration, MG University Online Registration, MGU Degree CAP Admission 2019-20, MG University UGCAP Courses Admission 2019 Prospectus, , cap.mgu.ac.in MG UG CAP Online Registration 2019-20,
MG University Degree (UGCAP) Admission 2019-20 Online Registration begins on 15/05/2019 and the Online registration will be closed on 27-5-2019. The MG University degree admission process will be done by a single window application (UG CAP 2019).
MG University Degree Online Application 2019
The student can apply for degree courses to multiple colleges under the university by a single application registration. Such candidates do not need to submit multiple applications for separate colleges.
The candidates can register and submit their online application through the official web site www.cap.mgu.ac.in. The MG University Degree UGCAP Trial Allotment result 2019 will be published on 30/05/2019 at http://cap.mgu.ac.in/ugcap2019/.
MG Online Application Details
Important Instruction for applying MG degree online aplication
Visit the web site cap.mgu.ac.in
Click on the "Account creation" link provided in the www.cap.mgu.ac.in web page and Fill in the minimum personal details required with utmost care.
Only one account can be created using a plus two registration number, mobile number and email id. All communications like application number and password shall be sent to the registered mobile number and hence candidates should take utmost care while giving mobile number.
Create a 'Password'.(The Password will be used for all future online operations).
After the successful creation of account, you will be provided a six digit application number starting with 1. The Application number will have to be retained by the candidate for all future online and offline operations.
Pay the application fee by clicking on the "PAY NOW" button which will redirect the applicant to the Online Payment Gateway. Applicant can use Debit Card/Credit Card or Internet Banking facility for making online payment.
After remitting the fee, the applicant will be redirected back to the application page.
Since the academic details are fetched from the higher secondary data base, applicant is not permitted to modify academic details.
Fill in the application form with personal details, academic eligibility and the options correctly. The applicant can give upto forty options.
After satisfying himself/herself that the details entered are correct, the applicants shall press the Final Submission Button.
Take the print out of the Confirmation Page which will have to be retained by the candidate for future reference.
MG Degree Allotment ( Trial Allotment / First Allotment etc)
MG University Degree Admission will be made through MG UGCAP 2019. The University will be publishing Allotments ie MG Degree Trial Allotment, MG Degree First Allotment, MG Degree Second Allotment ..etc.
MG Degree Admission and Allotment Dates
Online Application
15/05/2019
Last date for the online payment of application fee
27/05/2019 4.00 pm
Last date for Online Candidate Registration
27/05/2019 4.00 pm
Publication of Provisional Rank List & Trial Allotment
30/05/2019
Data modification, if any, by applicants / Rearrangement/addition/deletion of options
30/05/2019 - 31/05/2019
First allotment Date
06/06/2019
Online Payment of fee due to University
06/06/2019-10/06/2019 4.00 pm
Reporting for admission in Colleges
06/06/2019-10/06/2019 4.30 pm
Facility for option modification ( Rearrangement & deletion only)
11/06/2019
Second allotment Date
15/6/2019
Online Payment of fee due to University (Second allotment)
5/06/2019-17/06/2019 4.00 pm
Reporting for admission in colleges
15/06/2019-17/06/2019 4.30 pm
Facility for option modification ( Rearrangement & deletion only)
18/06/2019
Third Allotment Date
20/06/2019
Online Payment of fee due to University at designated Third allotment)
20/06/2019–22/06/2019 4.00 pm
Reporting for admission in colleges
20/06/2019–22/06/2019 4.30 pm
Commencement of classes
24/06/2019 (Mon day)
Online Registration/ Option registration for First Special Allotment for SC/ST candidates
24/06/2019-25/06/2019 4.00 pm
First Special allotment for SC/ST
28/06/2019
Online Payment of fee due to University and reporting for admission in colleges (First Special Allotment for SC/ST
candidates)
28/06/2019-29/06/2019 4.00 pm
Similar Titles :
MG University Degree Online Application 2019
MG University Online Application
MG University Admission 2019
MG University Degree Allotment
MG University UG CAP 2019
MG University UG CAP Allotment