Kerala Plus One Admission 2019 HSCAP Registration
|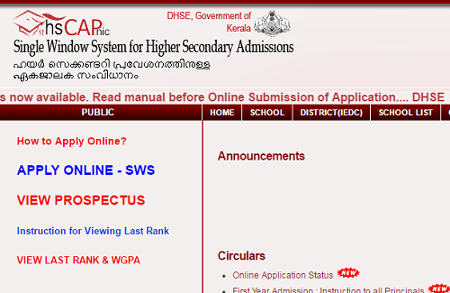 Plus one Admission 2019 HSCAP Registration, www.hscap.kerala.gov.in, Plus One Single window Application, HSCAP Plus One (+1) Admission 2019 Application form, Plus one admission Online Registration 2019-20 Ekajalakam, Plus one Admission Allotment 2019
Kerala Plus one admission 2019-20 online submission of applications in merit quota (HSCAP Single Window System) will be started on May 2nd week, 2019 at www.hscap.kerala.gov.in.
Kerala Higher Secondary First year admission in Govt and aided Higher secondary schools in Kerala is done through a Single Window Admission system (SWS - Ekajalakam). Last year hscap plus one single window admission process starts on May. This year also the online admission process stats on May. Candidates who want to take plus one admission can apply online thorough the site www.hscap.kerala.gov.in. Plus One admission procedures and instructions are available at HSCAP site. Candidates must read the online registration instructions before filing the application.
Plus One Admission HSCAP Single Window Online Application
Kerala higher secondary plus one admission for the academic year 2019-20 online registration will be done through a single window admission portal www.hscap.kerala.gov.in.
Eligibility for Plus one (+1) Admission 2019-20
The candidates who have passed SSLC (Kerala Syllabus), CBSE, ICSE, THSLC or equivalent examination can apply for HSE Plus one 2019 admission in Kerala.
Plus one admission HSCAP Online Registration Steps
Go to the site www.hscap.kerala.gov.in.
Download / view the online registration procedures through the link "How to apply online"
Click on the link "Apply onine - SWS"
Go to the Single window entry page
Enter the required information for application registration and submit the application
Keep the registration number for admission process.
Take a printout of the submitted online application form
The candidate submit the print out application form with the signature of the candidate and guardian along with the self attested copies of supporting documents and application fee to the principal of a related HSS School or aided higher secondary school in Kerala on or before the specified date.
Plus one Admission 2019-20 Application / Allotment Schedule
HSCAP +1 Online Registration start : 10/05/2019
Last Date of Application Received : 16/05/2019
Plus one Trial Allotment Date : 20/05/2019
HSCAP First Allotment Date : 24/05/2019
Main allotments closed date : 31/05/2019
Plus one Classes Starts on : 03/06/2019
Admission closed date : 05/07/2019
DHSE Plus One Supplementary Allotment
The supplementary allotment for DHSE Plus One will be held on 03/06/2019 to 05/07/2019
Plus One Admission Sports Quota Allotment Schedule
Plus One (+1) Sports Quota Certificate Registration and verification
HSCAP Sports Quaota Online Registration start : 15/05/2019
Last Date of Application Received : 22/05/2019
Sports Quota 1st Allotment Date : 24/05/2019
Sports Quota last Allotment Date: 31/05/2019
Ended date for sports quota admission :
2nd HSCAP Online Registration start : 15/05/2019
Last Date of Application Received :
Sports Quota 1st special Allotment Date :
Sports Quota last special Allotment Date:
Ended date for sports quota admission :
Plus one Admission Community Quota Allotment Schedule
VHSE Online Application Registration 2019 – Kerala VHSCAP Ekajalakam Allotment
Kerala Plus Two Result 2019 – DHSE Plus 2 Result
Data Entry Start date :
Data Entry end date :
Community Quota Selection list published date :
Community Quota +1 Admission 2017 start date :
For more details and Plus One Prospectus visit : www.hscap.kerala.gov.in/
Plus one (+1) Admission HSCAP Single Window Registration, HSCAP plus one admission 2019, plus one application form, Kerala plus one admission prospectus, Download Plus one Application Form, Plus one Ekajalakam 2019 Registration, HSE +1 Admission 2019 Allotment Result details, +1 Allotment List